We'd like to make your conference experience as enjoyable as possible. If you still have questions after reviewing the information below, please contact Optum Forum Program Headquarters.
Email: OptumForum@jnrreg.com
Phone: 1-800-343-4546
REGISTRATION AND CANCELLATION QUESTIONS
DOES THE REGISTRATION FEE INCLUDE TRANSPORTATION?

WHAT TYPES OF PAYMENTS ARE ACCEPTED FOR THE CONFERENCE FEE?

IS MY RESERVATION TRANSFERABLE?

WHAT IF I HAVE TO CANCEL?

WHAT IS THE HOTEL CANCELLATION POLICY?
HOTEL AND TRAVEL QUESTIONS
IS THERE A DISCOUNTED RATE AT THE HOST HOTEL?

HOW DO I RESERVE A HOTEL ROOM?

WILL I RECEIVE A HOTEL ROOM CONFIRMATION?

WHAT IS THE CLOSEST AIRPORT?

IS GROUND TRANSPORTATION PROVIDED?

WHAT ARE THE DIRECTIONS TO THE HOTEL?

WHAT KIND OF WEATHER IS EXPECTED?

WHO DO I NEED TO CONTACT IF I HAVE SPECIFIC DIETARY NEEDS OR FOOD ALLERGIES?

WHAT IS THE OPTUM FORUM 2017 HASHTAG?

HOW WILL I GAIN ACCESS TO THE VARIOUS EVENTS, KEYNOTES AND BREAKOUTS?
Hotel information
Gaylord National Resort & Convention Center
July 31 through August 2, 2017
201 Waterfront Street
National Harbor, MD 20745
1-301-965-4000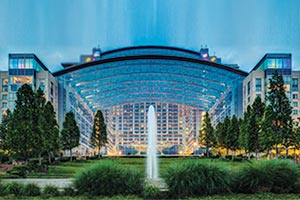 Excellent conference, see you next year!

– Optum Forum 2016 attendee